Leading Design
Design Leadership is a key discipline for big organizations to master transformational processes and become a front runner of digitalization. Philipp Thesen led a highly regarded transformation of Deutsche Telekoms Design function

from an operative service unit for product and service design to a strategic function for innovation and growth.
The world has become hyper connected and digital, and it's getting more complex every day. People need orientation and are looking for solutions that simplify and enrich their lives. That's why Design put human needs at the center of everything. In order to create value for the customers, the design function has to think design, do design, live design. And by creating true value for the customers, it creates sustainable business value for the company.
Design is more than an act of beautification – it's how a business becomes meaningful to people. It's a way of working, thinking, and living. Design is the strategic approach to translating the needs of our customers into products and experiences that matter. Therefore Design has to leave the level of beautification of products and reach process and organization forms and maintain a leadership function for business strategies of innovation driven corporations. When design becomes a relevant part of business strategy, it takes leadership function.
"Design is more than an act of beautification – it's how a business becomes meaningful to people."
Design leadership implies that a CEO and his management board have to systematically deal with the transformation of technology and society and out of this understanding develop innovative applicable possibilities and growth opportunities.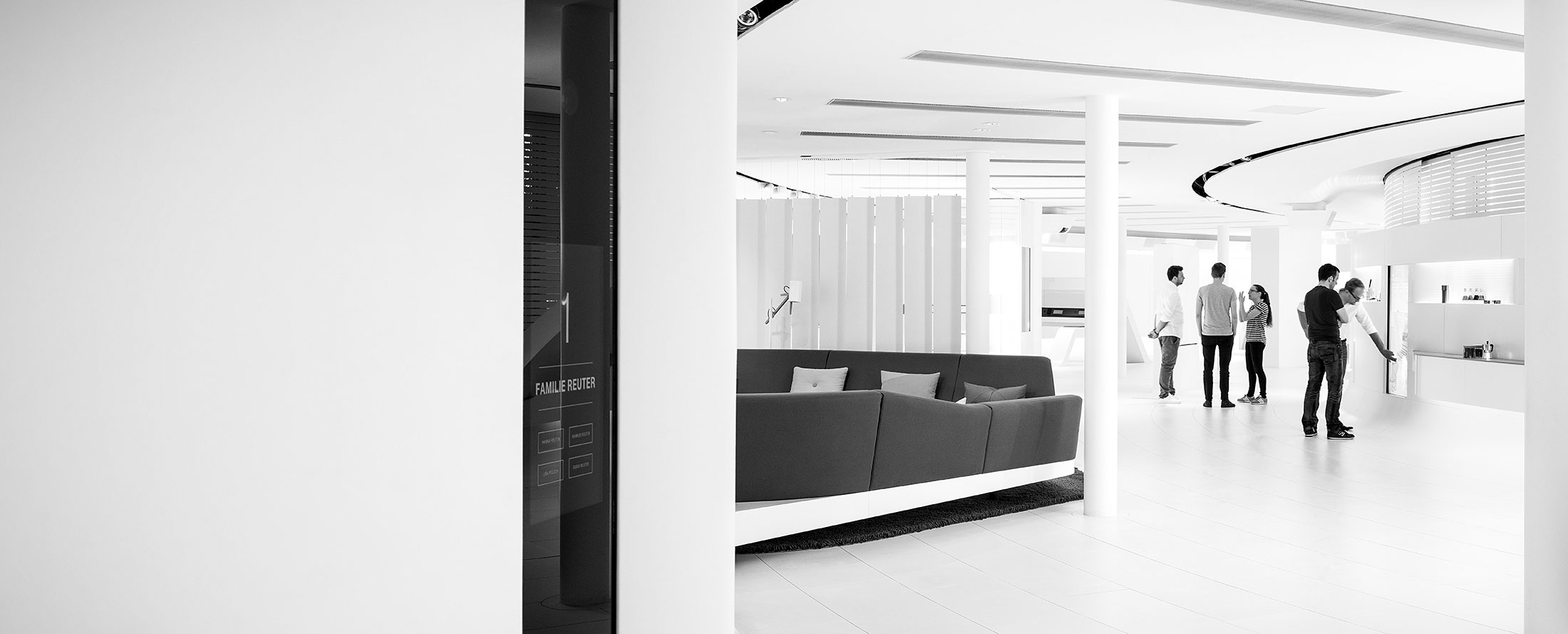 Shaping the role of design
To achieve the step up of the design function to maintain design as a strategy the definition of the value contribution of design is neccessary. Outstanding design competency is instrumental to leading organizations: it's elementary to shaping relevant propositions, and it's vital for creative and agile collaboration. Therefore, we have integrated design as an organizational competence into Deutsche Telekom. Our focus is on the strategic development of future experiences at every customer touchpoint. The design function has been re-organized in on three units: Design for Innovation, Design for differentiation and Design for consistency.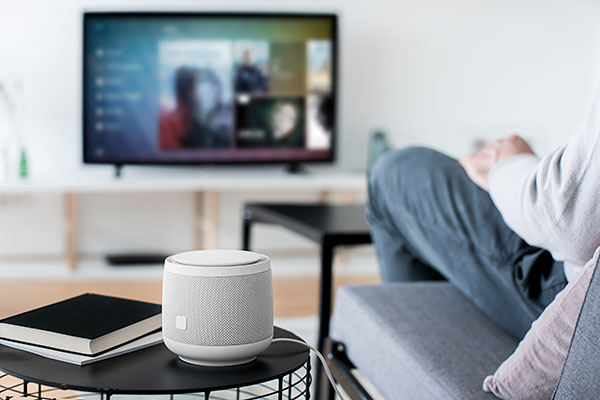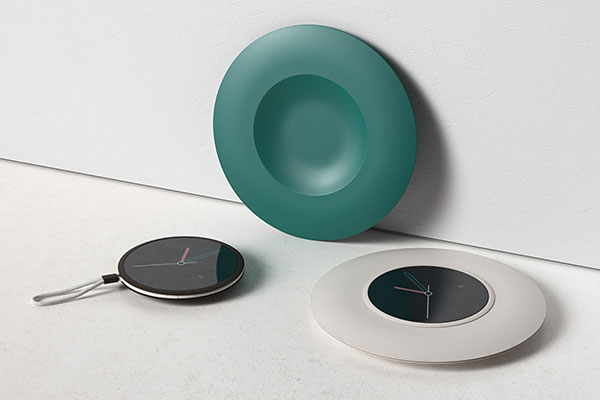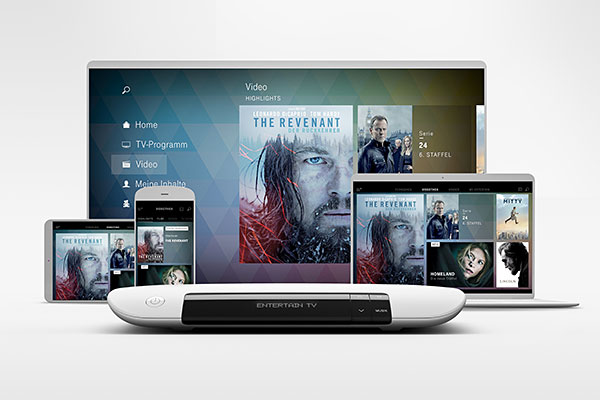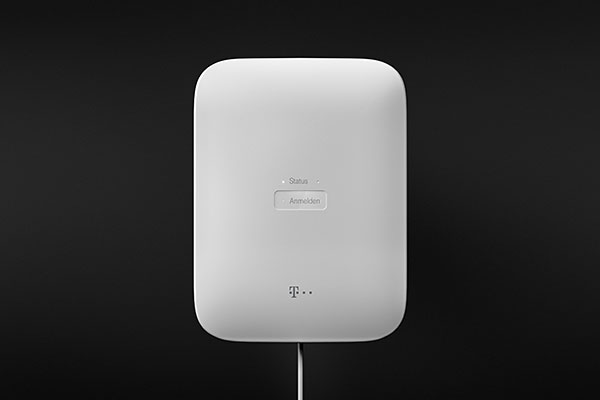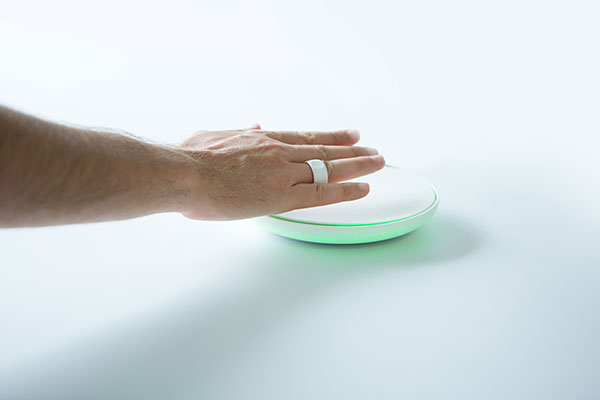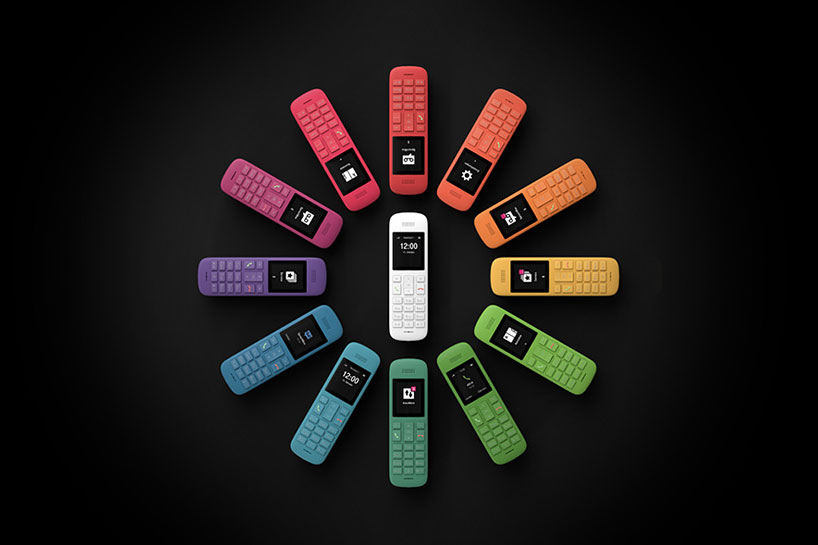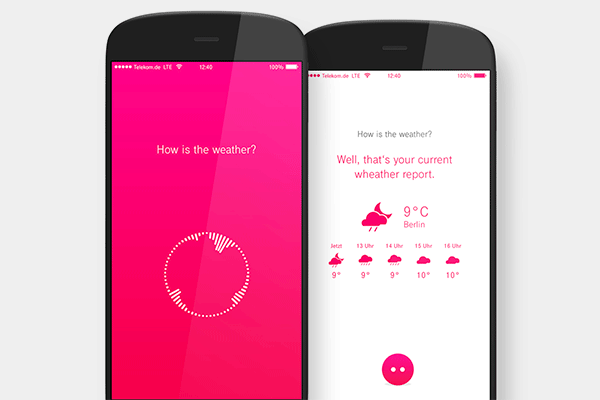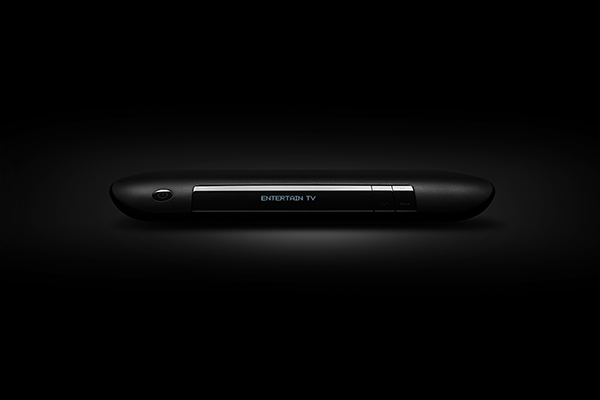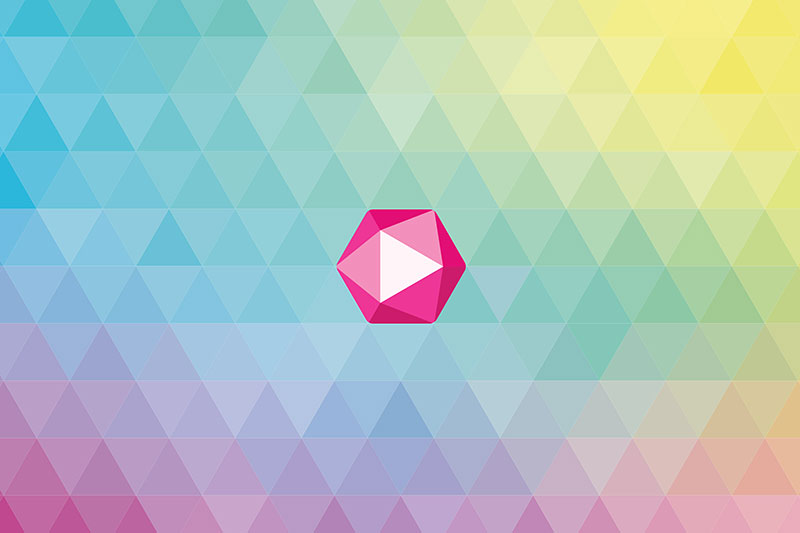 From Design Doing to Design Thinking
How does a group with the scale of Telekom manage to not only think technological and infrastructural, but to establish principles of design within the entire company in order to sustainably improve customer experience collaboratively and to become a front-runner of digitalization?
On the long journey from beautification to strategy the design department had products and services as the initial focus when kick starting Telekom Design some years back. The design of products and services was therefore the initial focus when kickstarting Telekom Design some years back. A small team of designers has grown to become one of the largest design divisions within a German company. In the end, over 150 internal designers were working collaboratively in a large network of freelancers, national, and international design agencies. In formative years, focus was on developing innovative products and services based on use cases that potentially became relevant over the next years. With storm and stress, the design team initially developed a holistic design language, shaped numerous products and services, and worked for the comprehensive implementation of a consistent experience within a diverse product landscape.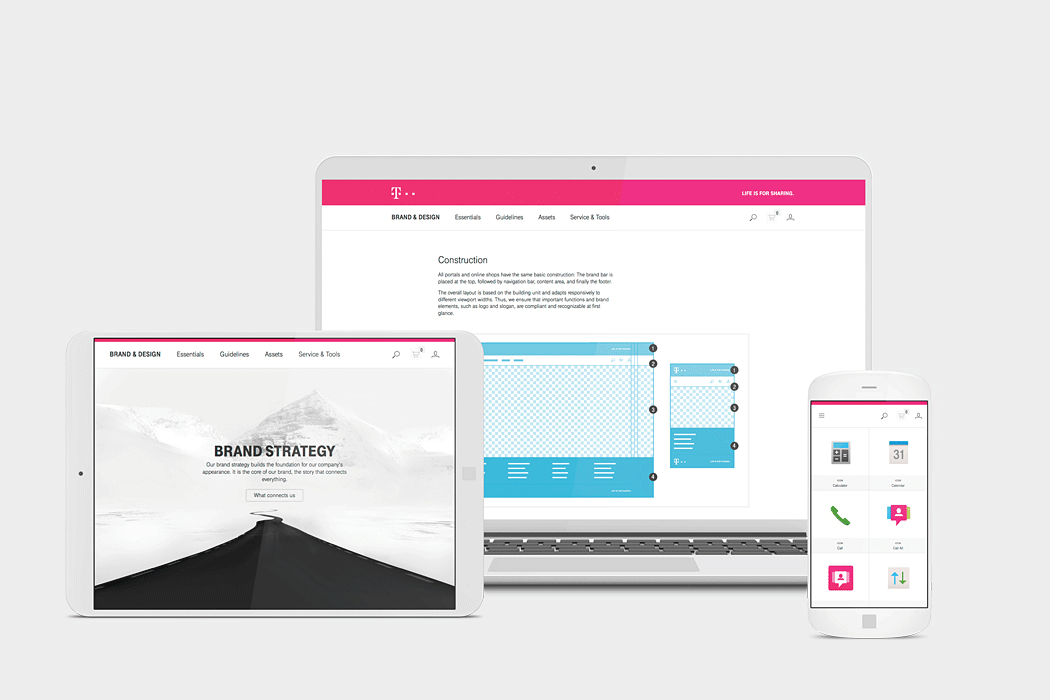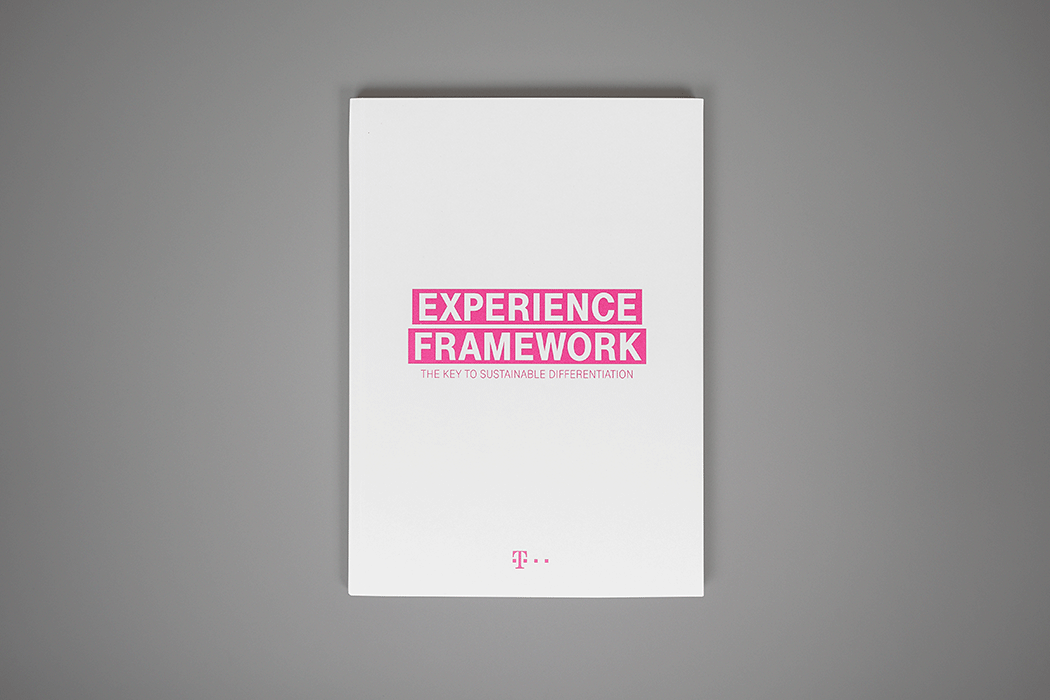 Creating a group wide customer experience
Consistency is essential for any brand. Look and feel as well as product behavior have to correspond in an ecosystem throughout the complete chain of customer experience. At an early stage, Telekom Design put together design guidelines and assets in an experience toolbox, which ensure a seamless customer experience. To create this positive customer experience a smooth "end-to-end" cooperation between all services and products is of vital importance.
Naturally, it is very complex, especially for a provider such as Telekom, to seamlessly coordinate infrastructure and technology in the background and provide a customer experience that is simple and effective. In order to realize this expectation, the designer at Telekom, just as in any other company, has a key function: he takes side with the customers, routing for the best customer experience and intriguing products and services. An Experience Framework for all products and services in more than 20 countries was designed. It defines the fundamentals of a superior customer experience across the Deutsche Telekom portfolio and provides concrete guidance on how to create it. This enabled the company to turn the strategy into outstanding products and services which will ensure unified, meaningful experiences for the customers.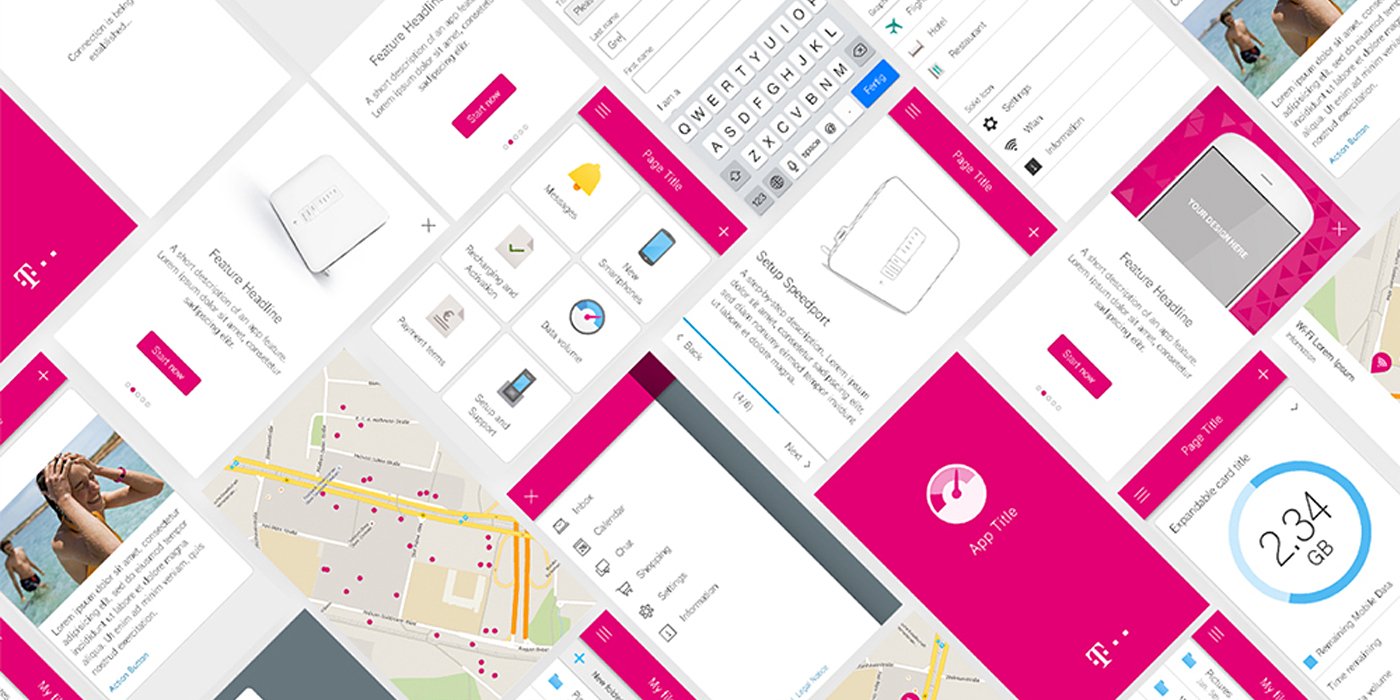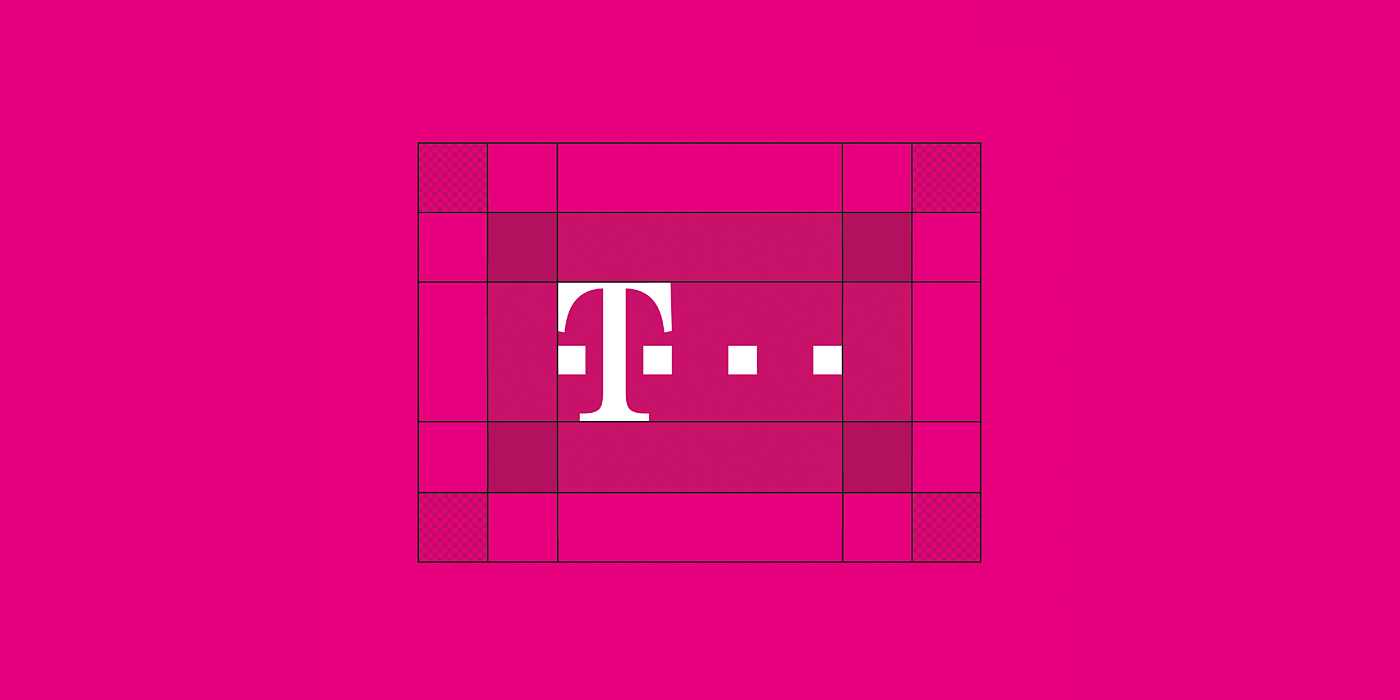 Starting with people
Customer-centered design means listening before assuming. Therefore, Telekom designers observe, investigate, and analyze their customers intensely. Since 2016, demographic and everyday life characteristics of particular population groups are systematically collected at the Telekom Design Customer Lab and assigned to archetypal "Personas" representing different consumer groups.
"Design derives from empathy."
— Philipp Thesen
—
This systematic customer segmentation allows to define different needs and expectations as well as the search and selection of suitable candidates for focus groups in the Telekom Design Product Clinic. The focus groups are invited to the Customer Lab to evaluate new product ideas and prototypes and to integrate unfiltered and immediate customer feedback into the design and development process.
From design thinking to design being
Listening exactly to what the customers really want is only a first step for the development of valuable solutions. Designing a seamless brand experience is a joint effort – it can only be achieved by a customer-centered, cross-functional, and transdisciplinary collaboration. To enable this kind of work culture, Telekom design function has created a framework of methods, tools, and approaches for Design Thinking for the entire company. Because design is most effective when it comes from a design-minded organization.
"There is no value of Design Thinking
without Design Doing."
— Philipp Thesen
—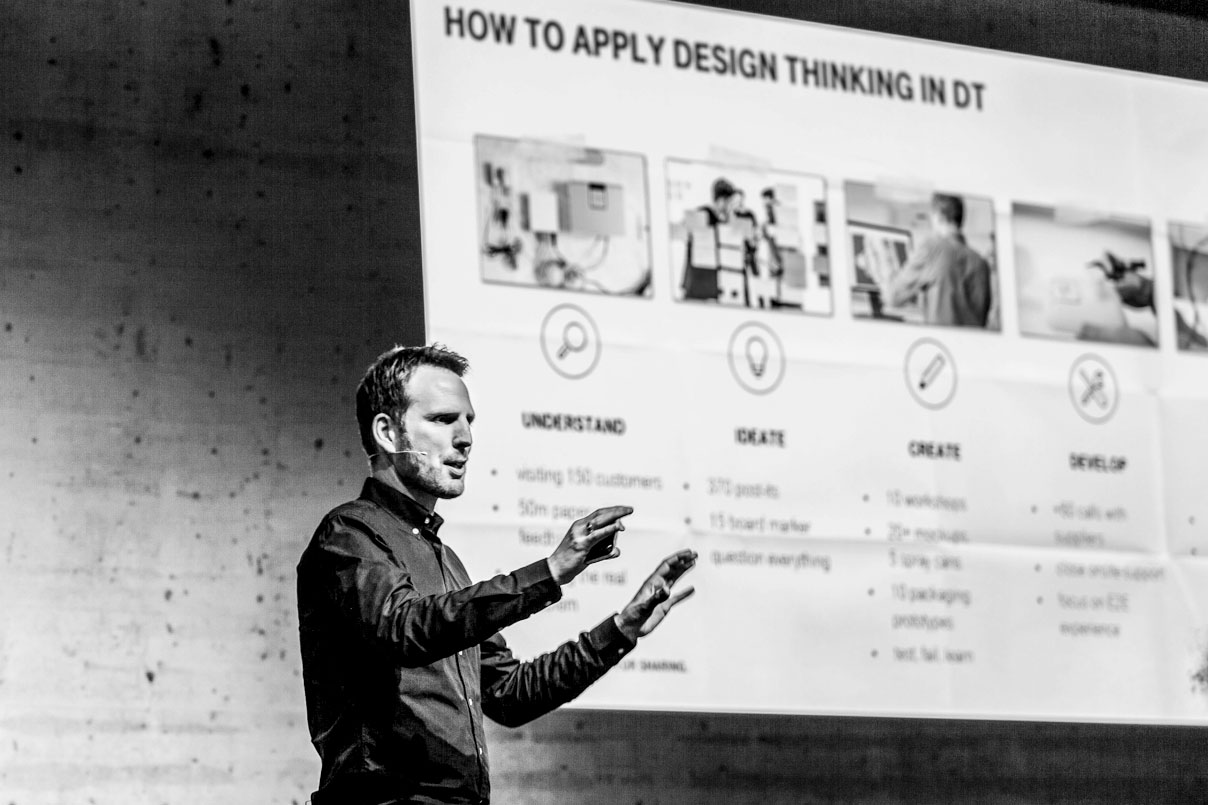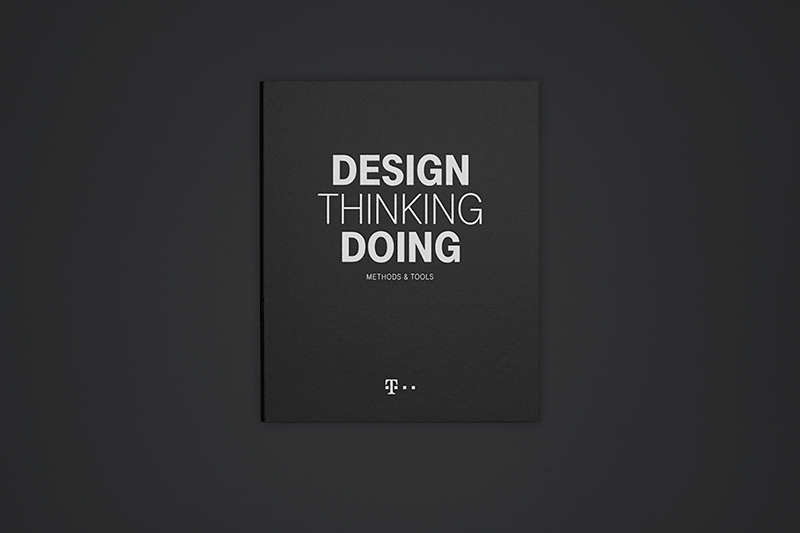 If we wanted to restructure Telekom into a truly design-driven company, we needed to establish the strategic design ability and the Digital Transformation within the entire group. Design Thinking is not a specialized discipline for designers only, but must interfuse with the entire company strategy. Because, every employee has immediate responsibility for the customer experience.
The Telekom Design team developed a toolset for Design Thinking and founded the Telekom Design Academy which is today maintained by Human Resources as a training activity for the whole group. The published toolbox "Design Thinking Doing" is a collection of best practice tools to enables everyone to make the best use of established Design Thinking methods. The Telekom Design Academy is setting standards for a groupwide Design Thinking process. It defines processing steps and methods for Innovation and trained more than 8.000 employees within the first year.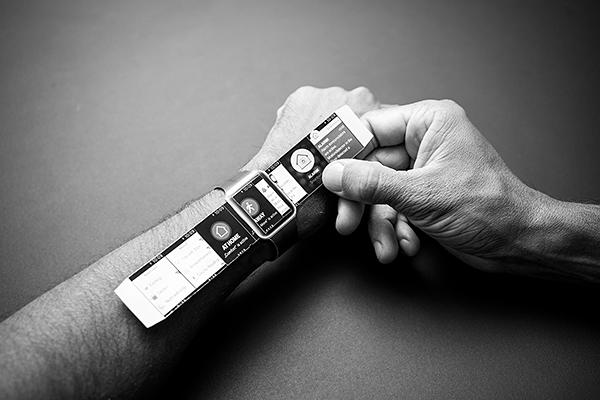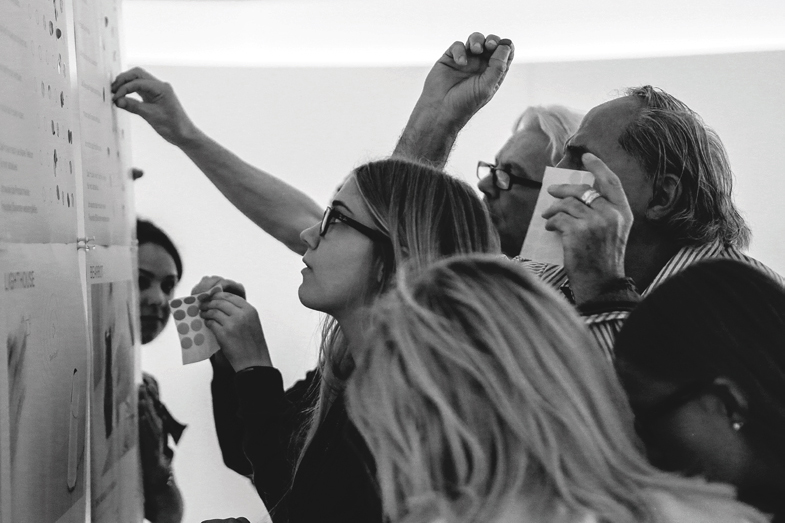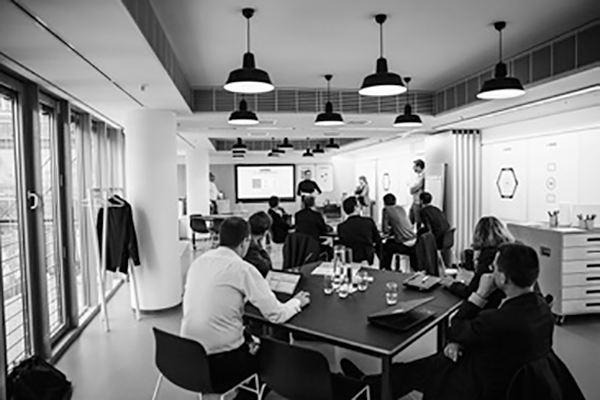 For the success of Telekom, this ambitious change process steadily including all parts of the group is a crucial component in the superordinate corporate strategy. A company must sustainably benefit from this design momentum developing within the organization. Then Design becomes a critical success factor because it drives innovation in the company. Unlike any classical consultancy, design has the empirical basis and the creative fantasy to predict the future.
"We want to create sustainable value for the company. And that can only be done by creating value for the customers first. That is why we design."
Articulating the corporate strategy
The Telekom Design Gallery brings the company´s visions to life. It's a platform for prototyping, showing, and discussing how future products can simplify and enrich the lives of Deutsche Telekom customers. It's a platform for connecting designers and colleagues, scientists and students, partners and customers, and it implants strategic design at the core of the organization.
It makes room for the future by bringing tomorrow's customer experiences to life. As many as 6.000 visitors per year enjoy some 400 events full of interactive and hands-on exhibits that are both visionary and realistic. Visitors dive into the digitally connected world of the future and discover it through the eyes of Deutsche Telekoms customers. More than 250 use cases enable users to experience the vision and strategy of the company. Thereby the Design Gallery acts as a strategic innovation facilitator for the entire company.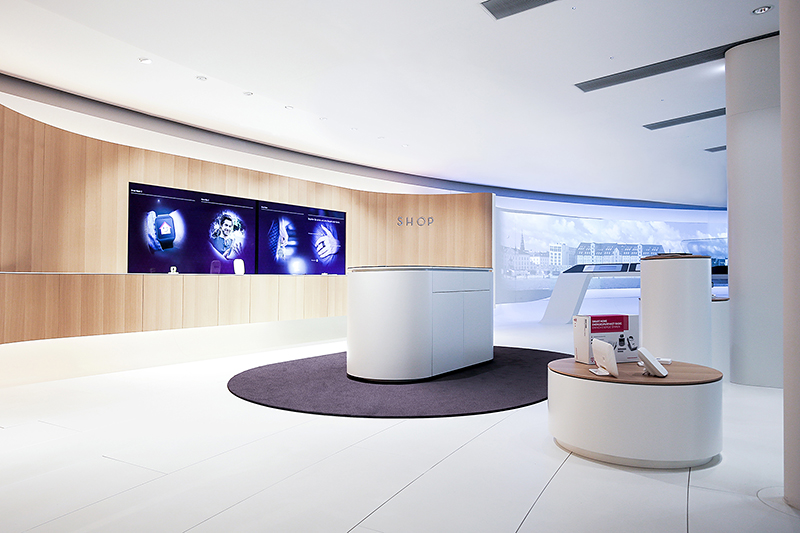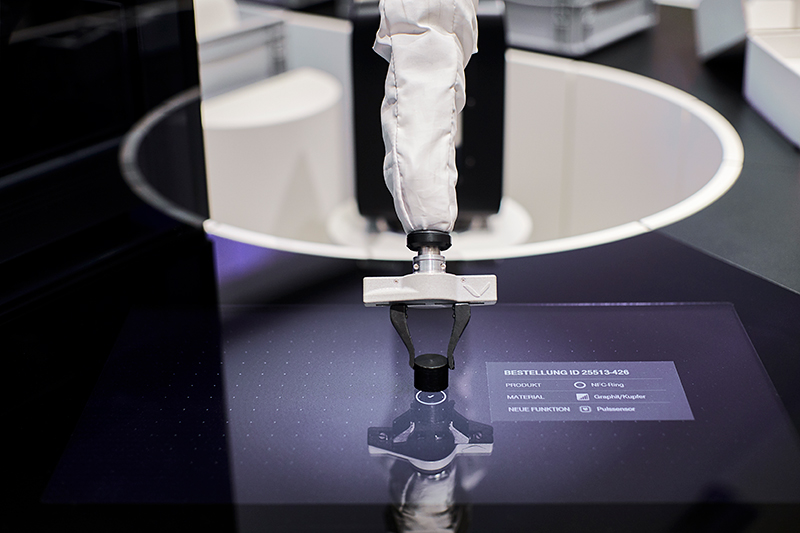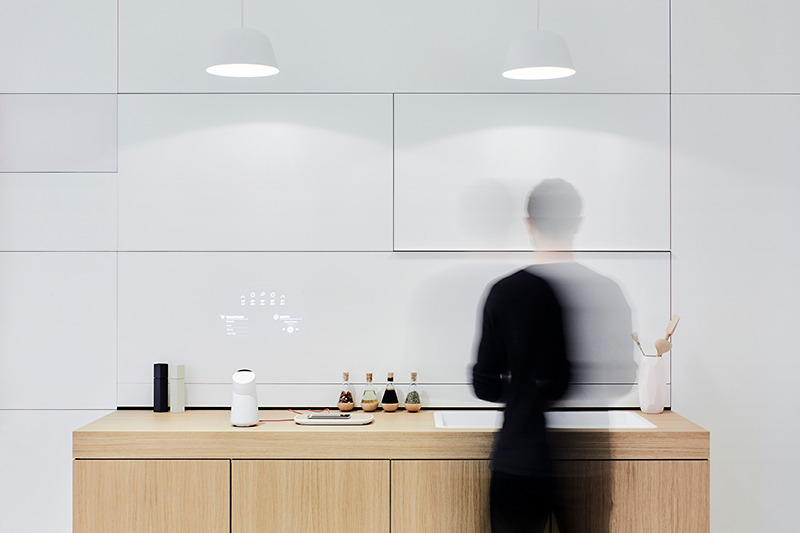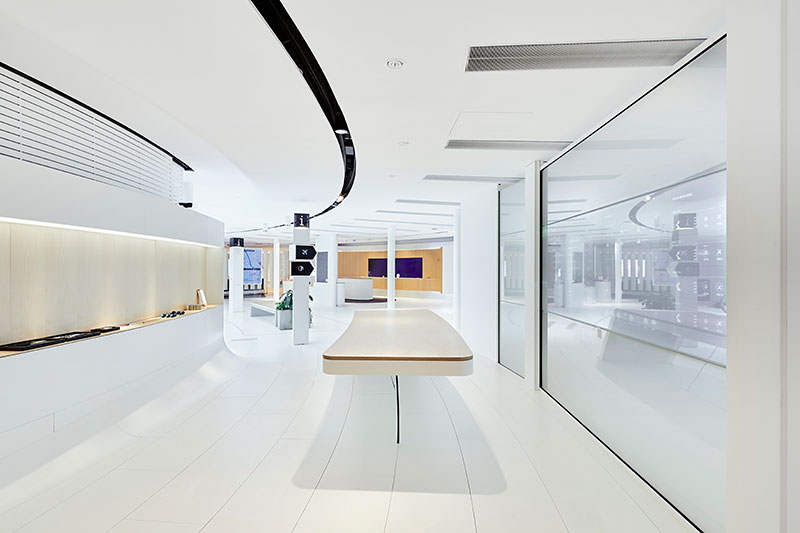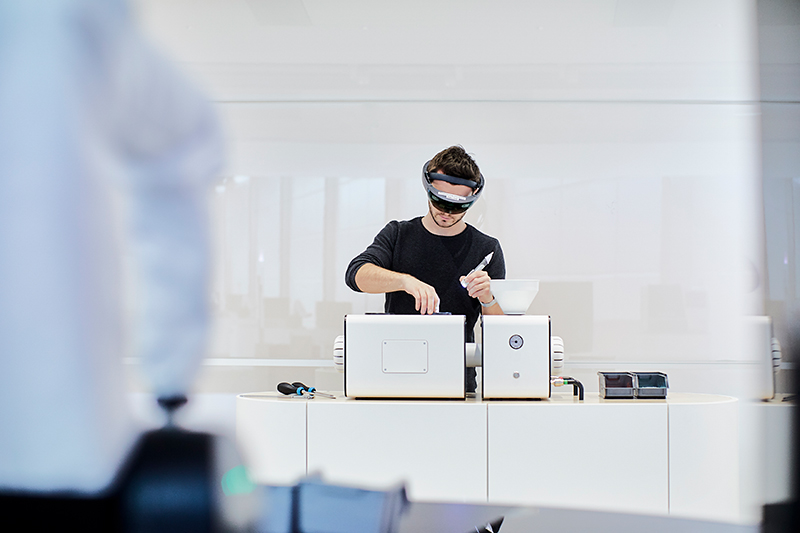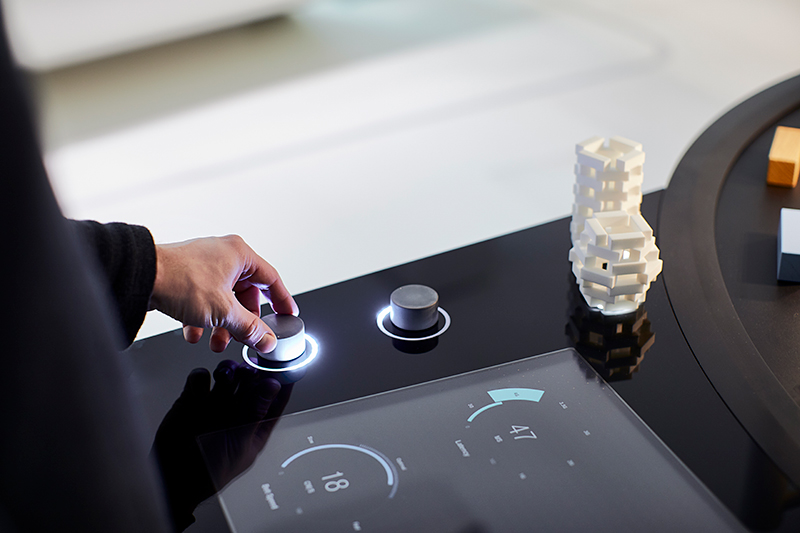 By recognizing customer needs and anticipating scenarios for applications the design function builds meaningful connections to customers and acts as as a cultural change agent. It enables organizations to inspire all employees for innovation. It provides the employees with the scope and the tools to think creatively, to be disruptive and open for change, to take risks and to have the courage to fail. Often called Design Thinking, design as cultural change agent has moved from the level of products to that of organizational forms and processes. It has taken on a leading role in the business strategies of innovation- driven corporations. When design becomes a relevant part of business strategy, it carries leadership function.